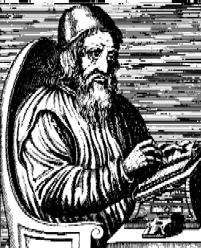 Johannes Trithemius (1462-1516)
Master cryptographer and magician, Trithemius was the mentor of Henrich Cornelius Agrippa.

---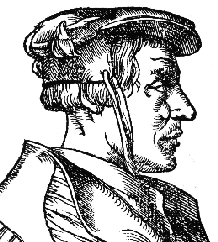 Heinrich Agrippa
The most influential writer of renaissance esoterica.


---
Athanasius Kircher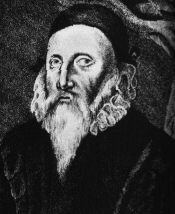 Dr. John Dee (1527-1608)
Another influential Renaissance figure, Dee was Queen Elizabeth's scientific advisor. In later life, he became disillusioned with pure science and started experimenting with occult techniques of the day. Many of his esoteric writing were kept secret and only discovered by accident long after his death.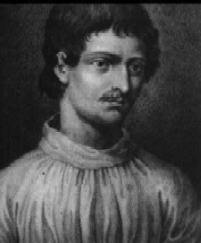 Giordano Bruno (1548-1600)
Bruno was one of the most original and colorful thinkers of the Renaissance. The Inquisition considered him a dangerous heretic, and had him burned at the stake in 1600.
---
Jacques Gohory (1520-1576)
Classical magic texts (aka Grimoires)
The Lesser Key of Solomon (Lemegeton): All five books. This famous 16-17th century grimoire was compiled from earlier texts. It was considered important by Crowley, Mathers, Waite, and others. The scrying methods correspond closely with Dee's.
Liber Trium Animarum ("The Book of Three Souls") (Latin)
The Magical Calendar (Calendarium Naturale Magicum Perpetuum) by Johann Baptista Großchedel. (excerpts)
Messalah: The Book of the Seven Rings of the Planets of Messalah, edited and translated by Mihai Vârtejaru. Used with permission.
Paracelsus: Archidoxis of Magic (excerpts, English)
Peter of Abano (pseudo):
Picatrix (The Goal of the Wise) pseudo-Majriti. (Summary)
Reginald Scot's collection of magical texts A fine example of Elizabethan English
Romanus-Büchlein Little Charm-book of the Roma (Gypsies). One of the main sourceworks for Hoodoo and American Folk magic. (German and English)
A. W. Greenup: Sefer ha-Levanah -- The Book of the Moon (Hebrew)
Ebenezer Sibly, A New and Complete Illustration of the Occult Sciences, Book 4. (1795?) Methods used for raising up and consulting Spirits are laid open, including a general Display of the Mysteries of Witchcraft, Divination, Charms, and Necromancy. Also includes an alchemical process for raising the form of plants from their essences (ala Borelli).
Sepher Raziel (English translation from Sl. 3846, colophon dated 1564)
Sixth and Seventh Books of Moses. This has already become one of the most requested documents at this site.
Sword of Moses Tenth century Hebrew handbook of magic
Testament of Solomon One of the oldest magical texts attributed to King Solomon, dating First to Third Century A.D. Includes a catalog of demons summoned by King Solomon, and how they can be countered by invoking angels and other magical techniques.
Theosophia Pneumatica
Vadian manuscript (VSG 334) . One of the earliest texts of the Key of Solomon as well as Lucidarium of the Art of Necromancy. Used with permission.



Black Magic
Sigillum Dei Aemeth
Miscellaneous